Your business trip was expected to be boring – you'd have to spend long three days in a small city on the other side of the country, doing pretty much nothing. Adding even more trouble, your company decided to save money on your airplane ticket and picked you the cheap seat near the toilets. The only thing that could make your day better was free alcohol and a female company, both of which could be asked from a stewardess.
Some young girl in a fit tight blue skirt suit was carrying a cart with drinks. Her name tag said that you were talking to Veronica. You asked her for a glass of sparkling wine, but in the exact moment she carried it to you, the plane shook, and predictably, all the liquid went onto your pants. Before you've got what happened, she was already rubbing a towel against your zipper, and your cock couldn't stay calm having such a pleasant stimulation.
In a while, the simple cleaning procedure became more intimate. Veronica was shamelessly stroking your cock hidden underneath your pants, but the plane's cabin was not the right place for the passionate fucking. She took you to the toilet cabin and closed the door behind herself.
Immediately her panties went off her silky thighs, and in front of your face, you had a blushed and heavily breathing fantasy that came into life. She asked you not to waste these precious minutes, and you followed her request by freeing your tensed cock out of the pants. You could notice the affection in her eyes when Veronica realized what's going to be inside of her in no time. She swallowed noisily as you approached her and put your cock's head to her wet entrance, not deciding whether to use a girl's ass or pussy as your personal sex toy. Still, we're sure you'll have a chance to try both, as Veronica has no limits when it comes to using her body as a satisfier of your adult desires.
Juicy Pussy And Narrow Anal In A Single Toy
To make male masturbation as pleasurable as possible, Veronica obtained two fuckable sex holes you're encouraged to use. They would squeeze all your cum to the last drop, bringing you unearthly sensations even the real pussy or ass cannot guarantee to give. This half body sex doll has no huge tits but still impresses with a bouncy butt so pleasurable when spanked or squished.
Realistic Stretchy Holes With Irregular Structure
The secret of the toy is its inner pattern of ridges, bumps, and tunnels of different pressure that stimulate your cock profoundly. They are thoughtfully spread in a way to give you different sensations with each thrust. Don't restrain yourself, as Veronica adores when her both holes are used as a masturbator for a hard cock.
Tunnel features of Veronica
She has an upward-facing drainage hole it means that she herself will be easier to clean than most other drainage (or non-drainage) sex dolls, and she is easy to ventilate after cleaning. All you would need to do is run water through the her holes. Then let her air dry.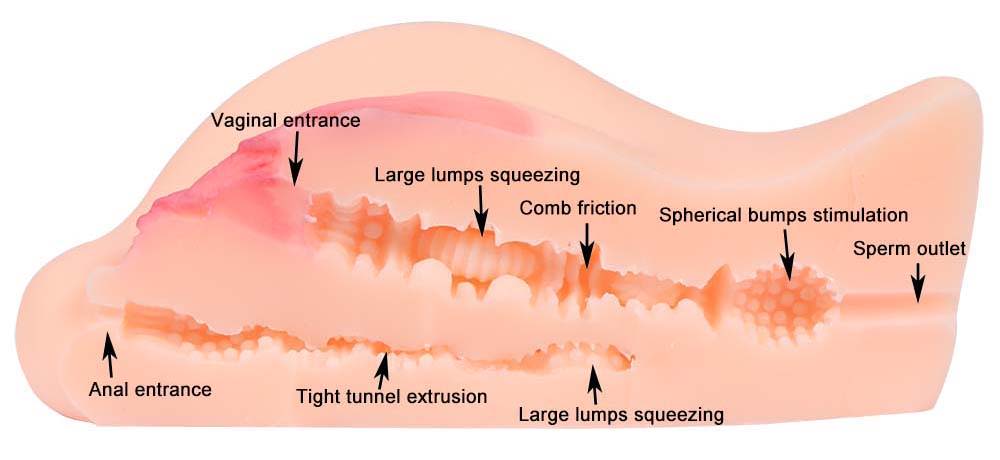 Small Size Toy That Is Easy To Care
When loaded into the toy, the sperm goes into the special section on the bottom of a toy, which then can be easily washed with running water. Simply allow the water to run freely through the toy, then let it dry and maybe use some special toy powder to make sure that the material would preserve its properties. Speaking about the material, it is a body-safe TPE that is used in the manufacturing of the toy.
Key Features
❤ Provocative pinkish labia minora and clitoris
❤ Best toy to satisfy your both physical and aesthetic needs
❤ Tight, narrow asshole stimulating your shaft in a new way
❤ Small weight and size, the toy is easy to store
Body Measurements
❤ Height:2.95"
❤ Length: 8.46"
❤ Width: 7.87"
❤ Weight: 3.81 lbs