Your erotic adventure with Nova and Eva
Their slender bodies intertwine, breath goes shallow, and gazes are hazed with a passionate desire. These little lustful cats are busy with each other and are pretending that there are only two of them in the room. But now and then, they glance at you, as if inviting you to join their fun. Their torsos are so close, and long beautiful legs of these hotties are wrapped around their bodies so tight that you swallow hard watching them. Every so often, you see their puffy labia and protruding buttocks. So now you can no longer hold back. This night belongs only to three of you. After all, you have been waiting for a threesome for so long.
Two pussies are a pleasure multiplied by two
It's challenging to find a man who, at least once in his life, didn't think about threesome sex. And if someone was lucky enough to find ideal partners, who didn't mind about the experiments, he was born under a lucky star. However, not every guy can boast of such success. So what you might to do if you don't have the opportunity to have threesome sex, but still, want to try? For such cases, there are unique sex dolls. For example, the lustful Nova and Eva.
This doll will please you not with one, but with two pussies at once. Just imagine what incredible sensations await you, during plays with this doll, when you will be able to insert your throbbing penis from one vagina to another! Only a few lucky ones can brag of this practice, huh? And now you are one of them.
Both pussies of this sex doll have a textured inner surface that is as close as possible to the vaginas of real women. Their labia look a bit different because of the distinction in their shape.
Nova and Eva's pussies are similar but have some differences. They are both quite wide, which makes them look like vaginas of young women, not innocent teenage-girls. One of them is more direct, while the second one has a more tortuous channel. In the front part of both pussies, there are dozens of rounded pimples. In the middle area, one of them is covered with transverse folds, and the folds in the second one are more curved. Both vaginas have a chamber for a seed collecting, which creates an additional vacuum in the channels. However, since the vaginas do not have a through-exit, they are more difficult to be cleaned up.
Anal features
Notice please that this doll doesn't have anal channels. The assholes there are only for decoration.
Tunnel features of Nova and Eva
They are sealed, it means that there is no drainage system. But they have the ability to create a suction that closely resembles a vacuum effect. This effect enhances your stimulation and gives you more of a 'real-feel'.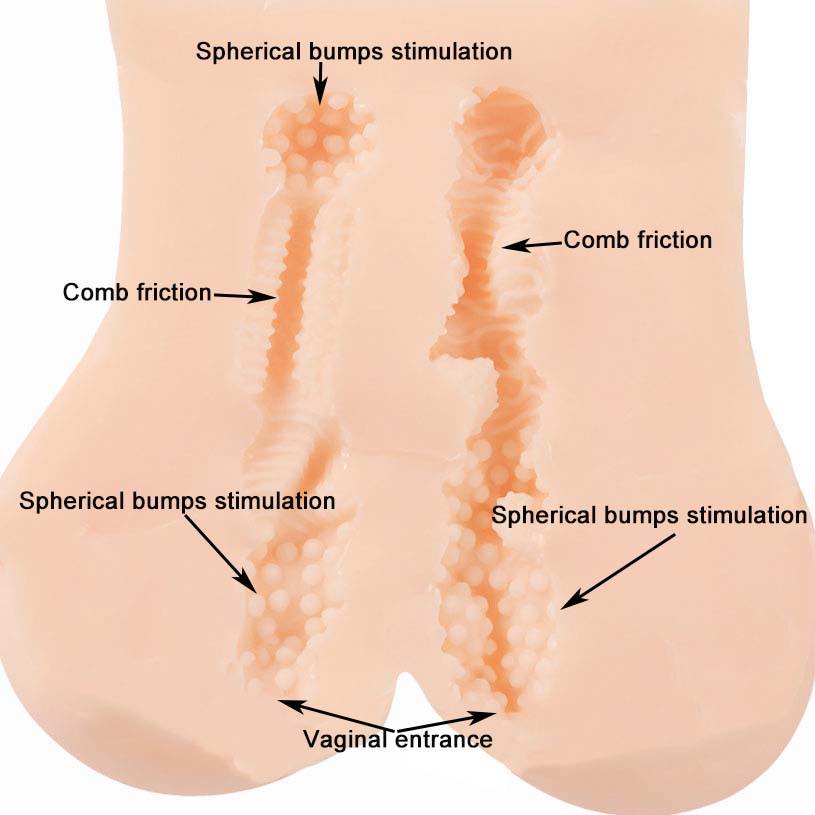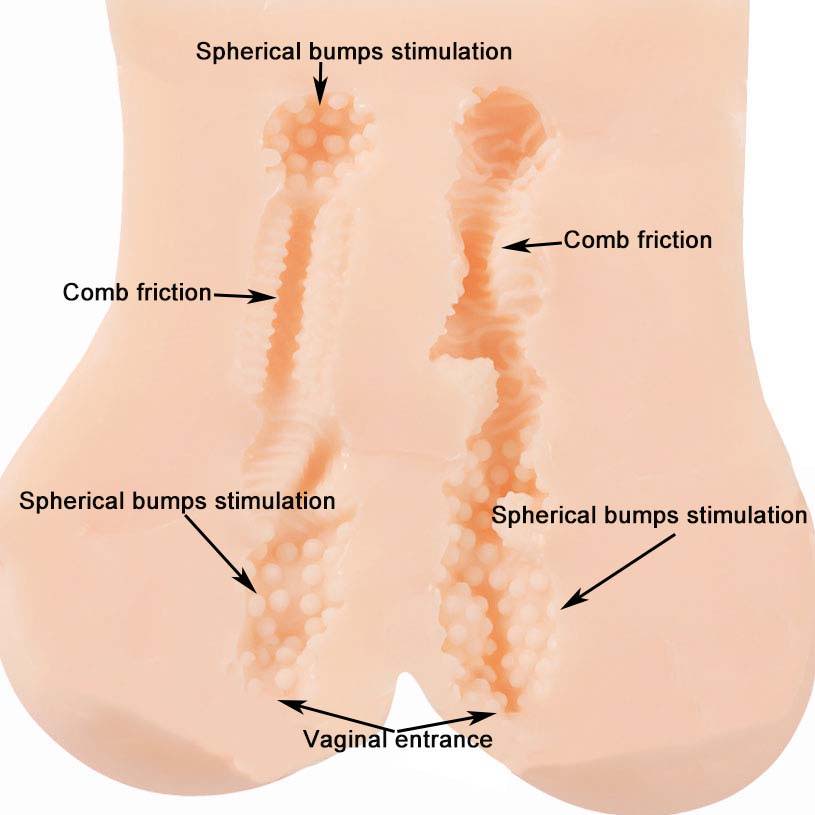 Two words about materials
To ensure complete resemblance to real human flesh, the creators of the Nova and Eva used medical grade TPE materials. This material is highly elastic, and it stretches excellently, but immediately returns to its normal state, without deformation. It also perfectly imitates the skin of a real person, with its silkiness and softness.
Key Features
❤ A doll for a threesome sex (MWW) simulation.
❤ Two pussies with wide vaginal channels for greater variety.
❤ Textured inner surface of the vaginas with a slight vacuum effect.
❤ Lack of through-holes.
❤ Decorative anuses without anal channels.
❤ Light-weight and small dimensions.
❤ Elastic but durable material.
Measurements
❤ Height: 6.3"
❤ Length: 6.69"
❤ Width: 5.12"
❤ Weight: 3.09 lbs