Your babe only seems to be so shy and impregnable. Here she lies, in front of you on the bed, her red locks are scattered on the pillow. But you know that as soon as you approach and touch her hot body, she will immediately respond to you, waiting for your affection and passion. Here she is, your hottie Helena.
You slowly push her slender thighs apart. And here it is, her juicy pussy with mouth-watering lips is before your eyes as if asking you to come in. And a little lower than this thrilling bud, there is her hospitable ass, which you will also penetrate tonight. Because tonight is a special night when you can do whatever you want with your sweet Helena.
If you like mini sex dolls that are lightweight and take up little space, Helena is precisely what you need. Despite its minor dimensions, it has everything that you may need for a pleasant pastime and male masturbation.
The labia and pussy you want to dive into
If you are the kind of man who likes big inner labia, Helena has something to please you. Like an orchid flower with large luxurious petals, her lips and clitoral hood attract and tease you, inviting to play with them. And after you petting them enough, all you have to do is to open this magic gate and get inside, enjoying Helena's pussy that will fascinate you.  
Just a few drops of a water-based lubricant, and you're ready to enjoy its charms to the fullest. Helena's narrow vagina craves you. You feel how easily she gives in to your effort and gratefully lets in your hard hot cock. You know every bend and every bump inside her pussy, but you still shag her like for the first time. The inner surface of this half body sex doll's vagina is made so realistic that it seems to you that this is sex with a real woman.
Awesome anal with your doll
Well, have you already enjoyed the breathtaking vaginal sex with Helena? Then it's time to pamper her sweet ass and fill it with your seed. Drop a little lubricant on your impatient cock and please this girl by inserting your hose into her butt. She just seems such a prude, but in fact, she longs for anal sex with you. The inner surface of her tight anus is made in such a way that each fold and curve will drive you crazy during frictions.
After you please Helena, making her scream with delight and filling her ass with your sperm, do not forget to clean your toy carefully from the remnants of the lubricant and seed.
Tunnel features of Helena
She has an upward-facing drainage hole it means that she herself will be easier to clean than most other drainage (or non-drainage) sex dolls, and she is easy to ventilate after cleaning. All you would need to do is run water through the her holes. Then let her air dry.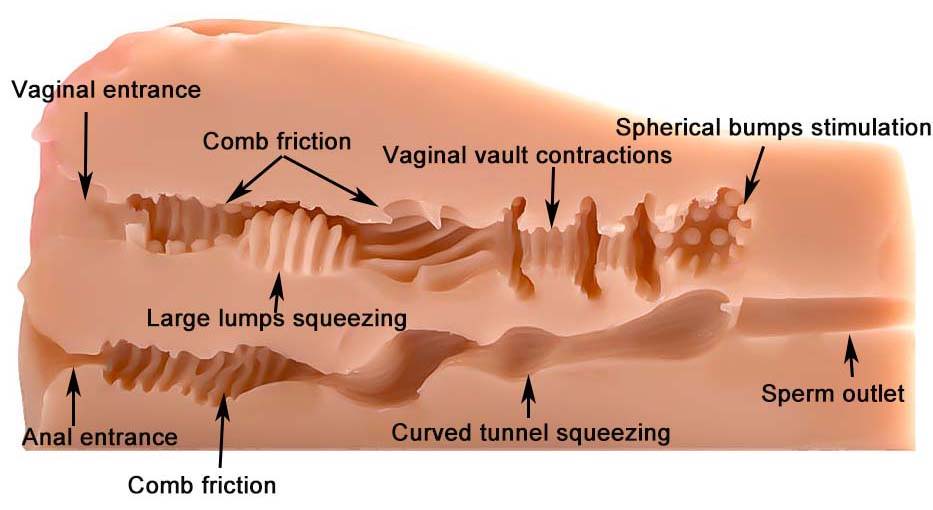 Safe and realistic materials
Intercourse with sex dolls made from medical grade TPE materials is as naturalistic as possible. The surface of such toys is very similar to the touch of human skin, and all internal channels have curves that resemble human ones. These materials are non-toxic and hypoallergenic, and also easy to care for.
Key Features
❤Compact and lightweight doll.
❤ The toy is perfect for a missionary position.
❤ Pussy with big inner labia.
❤ Ass with a realistic inner surface.
❤ Pleasant to the touch and non-hazardous materials.
Body Measurements
❤ Height: 3.94"
❤ Length: 6.89"
❤ Width: 5.31"
❤ Weight: 2.93 lbs