Greta knows how to make you happy. Her rounded shapes, her protruding breasts with hard pink nipples, her smooth, delicate skin, and all her luxurious body: every line in her form drives you crazy and forces your head to be spinning. This babe is ready to give you countless minutes of sweet pleasure. Now you are standing in front of her, burning with the sight of this hot girl and ready to enjoy her flesh time after time.
This sex doll is a perfect one for any male masturbation: for vaginal and anal sex, as well as for games with her round elastic boobs. Lightweight and small in size, it does not require much storage space, and you can even take it with you on the trips if you want to.
Tight and well-textured vagina
Well-designed pussy is one of the main requirements for torso sex dolls. After all, the depth and brightness of your sensations depend on how well your masturbator is made. During frictions, the bends and irregularities of the vaginal walls should stimulate your penis, leading you to a dizzying orgasm.
Greta does an excellent job at this task. Her pussy is created in such a way as to bring her closer to sex with a real woman. Narrow and cramped, it is as close as possible to the vagina of a young girl. Its front third is covered with multiple rounded pimples. Further, you will find a narrow folded channel. With deeper penetration, you can touch Greta's cervix.
The entrance to this realm of pleasure is protected by rather large and textured pink-shaded inner labia. The skin of the pubic area and external labia is smooth, so fans of shaved pussies will like this half body sex doll a lot.
Please note: the pussy has a through-hole design, which facilitates washing the doll, but reduces its suction ability. To increase the strength of the vacuum, you can close the through outlet during use with something.
Narrowing and untouched anal canal
Anal penetration admirers will find something to please themselves while having sex with this doll. Intact and unstretched, Greta does not yet know how amazing anal games can be. The entrance to her tight ass is a tiny hole that stretches under the pressure of your hot penis. Inside of it, you will find an extremely narrow anal canal with several bends and a bunch of folds that will blow your mind.  
Tunnel features of Greta
She has a downward-drainage hole, the tunnel is narrow but still allows for easy cleaning and ventilating. The fact that her drainage hole is downward-facing gives it a leg up when she comes to that vacuum-like effect, as when she is placed on a flat surface, you can mimic the feeling by closing the tunnel off for a moment.

When it comes to sex doll drainage tunnels, she is top, as she gives you the best of both worlds - a vacuum-like effect and an effective drainage system.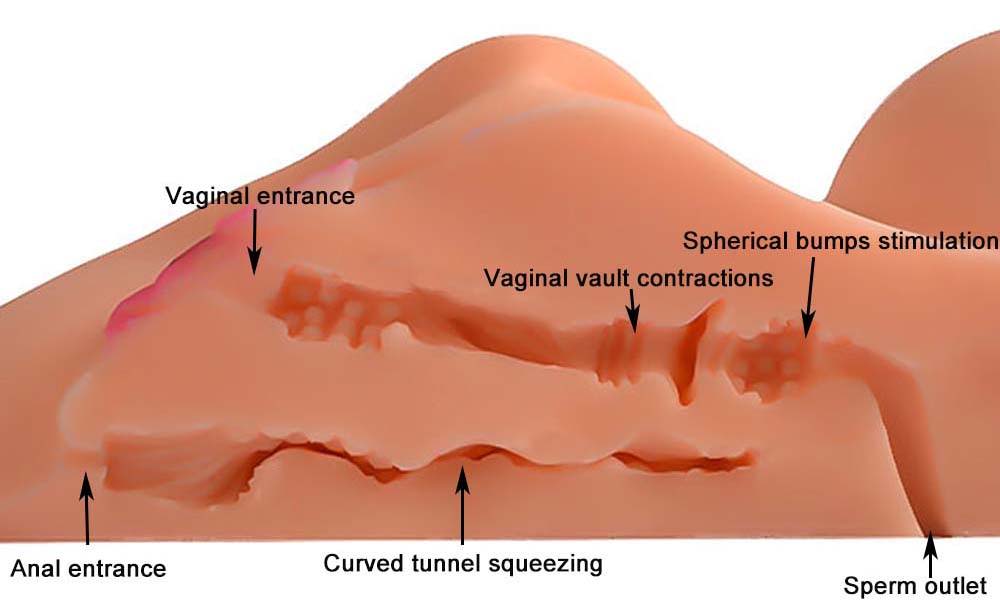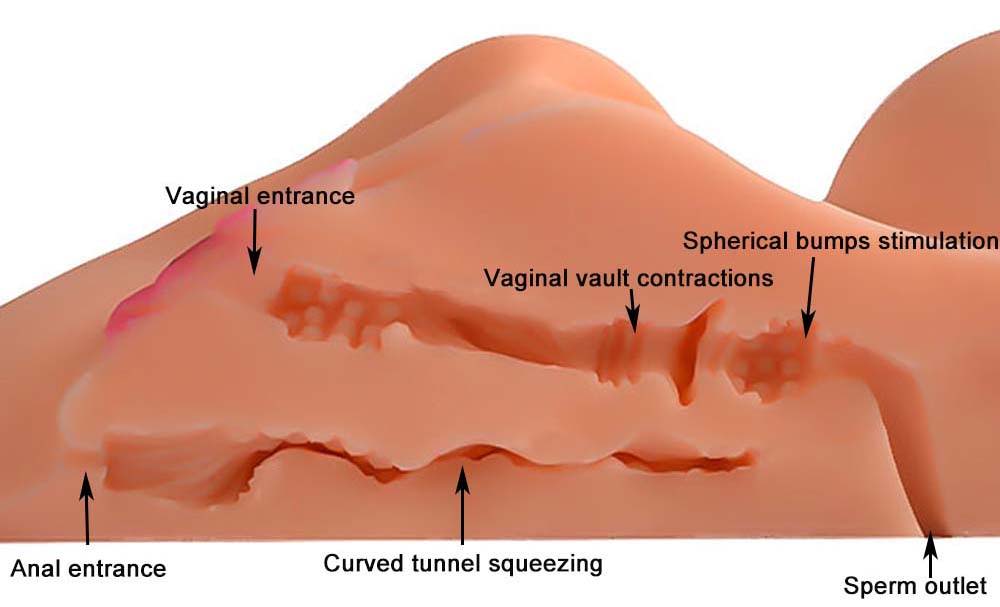 Elastic and naturalistic materials
To make your amusement with mini sex dolls realistic, it's essential to use the right materials for making them. Greta is made from medical grade TPE material which is often used for high-quality sex toys production. Due to its structure, this material resembles human skin: it is smooth and silky, soft, and elastic. TPE does not contain harmful impurities that can provoke an allergy. To enjoy sex with Greta, use a water-based lubricant and wash the doll regularly (it is easy to do thanks to the through the channel).
Key Features
❤ Lightweight doll with small dimensions.
❤ Narrow vaginal and anal canals resembling a teenage girl.
❤ Textured inner surface of the vagina and anus.
❤ Round breasts with protruding nipples.
❤ Health-safe, velvety materials.
Body Measurements
❤ Height: 3.54"
❤ Length: 11.02"
❤ Width: 7.87"
❤Weight: 5.95 lbs