When your car was pulled over by a police officer, did you expect that evening to have such a pleasing turn? A charming lady who introduced herself as Fiona was too lovely not to flirt with. And – what a coincidence – she wasn't that angry because of your traffic violation, but playful and..flirty as well. Still, she asked you to step out of the car and lean towards it so she could conduct a cursory inspection. Following her instructions, you were a little bit surprised when her small palm started to elaborately inspect the area of your pants' zipper.
All of your endeavors to take the initiative were cut short by Fiona – the girl seems like a real dominant. She found her way into your pants and now stroked your hard cock in a harsh tone that almost instantly made you cum. However, the small size girl didn't seem to like your rapidity, as the touching has suddenly stopped and a moment later you saw her playfully luring you from the back seat of your car like a fantasy that came into life. She took off her official blouse and stripped down to panties. Her young body was admirable, with torso muscles tensing under the milky skin of hers.
You had no time to pay enough attention to her whole female body, as more and more cars went past your vehicle parked on the roadside. You got into the salon of your car and immediately grabbed Fiona's ass to make her sit on your laps. Don't make her wait, as her pussy is already soaking wet from her love juices – move aside the strip of her white panties and get your cock inside of this vagina and ass masturbator in a single strong move.
Half Body Sex Doll With Two Holes To Choose From 
Instead of one entrance, your dick can penetrate two! Anal or vaginal – which way would you choose? Elaborated structure of each hole makes it impossible not to cum instantly, while the sex toy's design provides a simple washing and caring routine. The toy is compatible with water-based lubricant – make it sleek, cum inside, wash, and repeat all over!
Elastic Material Perfect For Male Masturbation
To make sure that the toy will bring you the best sex experience among all the assortment of masturbators for sale, it is made of the material that suits perfectly to all sizes of dicks and all kinds of sex. Love using vibro toys? Stick them to one of Fiona' holes and use the other one as the material will transfuse the vibrations evenly. It can as well diversify nicely your regular couple sex life. Simply use Fiona as a third member of your mini party and interact with it as with a real person.
Tunnel features of Fiona
She is sealed, it means that there is no drainage system. But she has the ability to create a suction that closely resembles a vacuum effect. This effect enhances your stimulation and gives you more of a 'real-feel'.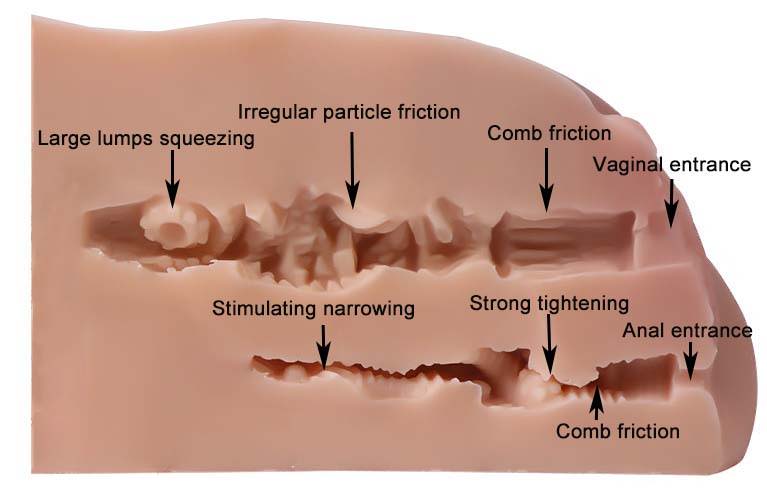 Medical grade TPE materials
Adult toys are often sold cheap, but keep in mind that good materials and qualitative manufacturing worth money. The price for Fiona guarantees you that the sex toy won't cause you a severe allergy or hurt your health in any other way. The choice of materials for this masturbator is seamless, as TPE elastomer gains popularity thanks to its hypoallergenic properties.
Key Features
❤ Cute and realistic tiny pussy that lures men's cocks
❤ Elaborated designs of vaginal and anal inner structures
❤ Two separate holes for additional pleasure
❤ Body-safe material that does not cause allergies
❤ Significant weight and size for comfortable masturbation
Body Measurements
❤ Height: 3.94"
❤ Length: 13.78"
❤ Width: 12.2"
❤Weight: 11.02 lbs